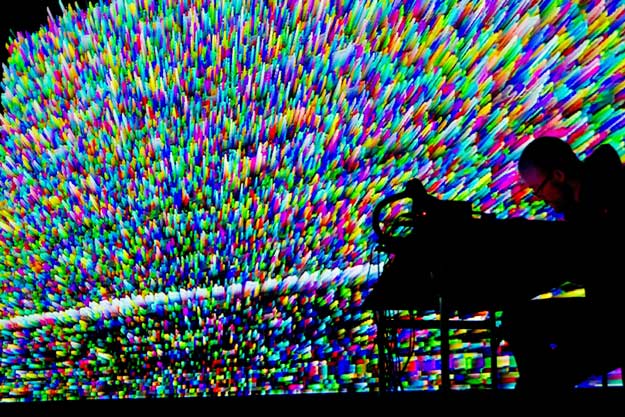 The imperfections allow to identify a medium, in the style of glass becoming visible by the accumulated dusts and scratches.

Nicolas Maigret experiments the capacity of the contemporary technologies to generate specific sound or visual languages. In his realizations, the internal characteristics of the media are revealed through their errors, dysfunctions, borderlines or failure threshold, which he develops sensory and immersive audio visual experiences. He begins in 2002 with Between 0&1, a digital process tripping through binary data and their intrinsic qualities (logic, structure, redundancy). In the current project, Infinite Stream Loop in duet with Nicolas Montgermont, an audio stream probes the Net and offers a perception of the network's unstable and intangible space.
http://artoffailure.org



Nicolas Maigret has been developing experimental sound and electronic image projects since 2001. After studying Intermedia arts with a focus in avant-garde theoretical education, he joined the laboratory Locus-Sonus in Nice dedicated to networked sound art research. He taught at the Fine Arts School of Bordeaux and is presently involved in an artist run space named Plateforme in Paris. He develops digital and sound art projects under the name Art Of Failure.
Contact:
peripheriques [at] free [dot] fr

Alternative:
Art of Failure website
videos on Vimeo
art of failure videos on Vimeo
audio on SoundCloud
Les imperfections permettent d'identifier un médium, à la manière d'un verre devenant visible par la poussière et les rayures qu'il accumule.

Nicolas Maigret expérimente la capacité des technologies contemporaines à autogénérer des langages sonores ou visuels spécifiques. Dans ses réalisations, les caractéristiques internes des médias sont rendues perceptibles à travers leurs erreurs, dysfonctionnements, états limites ou seuils de rupture, dont il développe des expériences audio-visuelles à la fois sensorielles et immersives. Il débute en 2002 avec Between 0&1 une installation dans laquelle il traduit des fichiers informatiques sous la forme de matière vidéo et sonore, proposant une expérience physique de la donnée numérique. Dans le projet en cours, Infinite Stream Loop, en duo avec Nicolas Montgermont, un flux sonore sonde le Net et propose une perception de l'espace instable et intangible interne au réseau.
http://artoffailure.org

Nicolas Maigret développe une pratique expérimentale du son et des images électroniques depuis 2001. Après avoir étudié les arts intermédia à Besançon, il intègre le laboratoire Locus-Sonus à Nice où il explore le domaine de la création sonore en réseau. Il a enseigné à l'École des beaux arts de Bordeaux et est actuellement impliqué dans le projet Plateforme, un 'artist run space' basé à Paris. En parallèle, il développe des projets sonores et numériques en solo et avec Nicolas Montgermont sous le nom d'Art of Failure.
















_______
Expositions solo
2012 : Interstices :: Caen - FR
2012 : Devotion Gallery :: New York - USA
2012 : Seconde Nature :: Aix - FR
2011 : Espace Mutimédia Gantner :: Bourogne
2011 : Trackers Tower :: São Paulo - BR
2010 : Galerie des Bains Douches :: Marseille
2010 : Architecture & Sonorités :: OARA :: Bordeaux
2007 : Chemins Electroniques :: Access :: Pau
_______
Expositions :: Installations
2012 : Maison du Peuple (1936) :: Clichy
2012 : Controlled Evidence - Simons Center :: New York - USA
2012 : Géographies Variables - Chambre Blanche :: Quebec - CA
2012 : Immersions Digitales - DigitalArti :: Paris
2012 : Fete des 01 :: Orléans
2012 : Pure creative Data :: Stereolux :: Nantes
2012 : Encountering Data :: New York - USA
2011 : DeOrigenBélico :: Caracas - VEN
2011 : Parisonic :: Instants Chavirés :: Paris
2011 : Festival Ososphere :: Strasbourg
2010 : lafiac.com :: web
2010 : Sonica :: MOTA :: Lubjana - SL
2010 : Good Vibrations :: KlankenBos :: Neerpelt - BE
2010 : Nuit numérique :: Saint-Ex :: Reims
2010 : TxT :: Ecole supérieure d'art :: Lorient
2010 : Géographies variables :: Enclos du Port :: Lorient
2009 : Pyramide de l'Ecole d'Architecture :: Bordeaux
2009 : Acces(s) :: Funiculaire de Pau
2009 : Artivistic :: Montreal - CA
2009 : Nuit Bleue + Architectones :: Salines Royales :: Arc et Senans
2009 : Mal au Pixel :: Mains d'oeuvres :: St Ouen
2009 : Season 18 :: Le Magasin :: Grenoble
2009 : Eastern Slovak Gallery :: Kosice - SL
2009 : Interstices :: Caen
2009 : Ecole des beaux arts :: Besançon
2009 : You've got a light :: FRAC :: Bordeaux
2009 : Trans-Faires :: BBB :: Toulouse
2008 : Cimatics :: iMal :: Bruxelles
2008 : Festival Indisciplinaire :: Ile de Groix
2008 : Nuit Bleue + Architectones :: Salines royales :: Arc et Senans
2008 : RIAM 05 :: Montévideo :: Marseille
2008 : Insomnies :: FNAGP :: Nogent sur Marne
2007 : Locusonus :: Gmem :: Marseille
2007 : Festival Rebonds :: Gmea :: Albi
2006 : Nuit des musées :: Musée des beaux arts :: Besançon
2006 : BBB :: Toulouse
2006 : Slick :: Numeriscausa :: Paris
2005 : Rencontres internationales Paris-Berlin :: Paris
2005 : Affinités :: Le pavé dans la mare :: Arc et senans
2004 : Digital story telling :: Ludvigsburg - DE
2004 : Mulhouse 004 :: Mulhouse
2003 : BHV :: Paris
_______
Performances et Diffusions
2013 : BodyControlled #6 - LEAP :: Berlin - DE
2012 : Blackout - Kadist art space :: Paris
2012 : Galeries Nomades :: Marseille
2012 : RIAM 09 :: Marseille
2012 : Freitag Tower :: Zurich - CH
2012 : CTVR :: Dublin - IRL
2012 : Electropixel :: Nantes
2012 : Mapping Festival :: Geneva - CH
2012 : Landmarke Lausitzer :: Senftenberg - DE
2012 : Seconde Nature :: Aix
2012 : The Upgadre! :: Chicago - USA
2012 : School of the Art Institute :: Chicago - USA
2012 : Stony Brook University :: New York - USA
2012 : Le Cube :: Issy
2011 : Gli.tc/h :: Birmingham - UK
2011 : IRL :: centre Mercoeur :: Paris
2011 : Gli.tc/h :: Chicago - USA
2011 : Diffusion :: Leeds International Film Festival :: Leeds - UK
2011 : Diffusion :: Souvenirs from Earth :: Plateforme - Paris
2011 : Diffusion :: Tetraedres radio :: brussels - BE
2011 : Espace Multimédia Gantner :: Bourogne
2011 : Mal au Pixel :: La gaieté lyrique :: Paris
2011 : Databaz :: Angoulême
2011 : Ososphere :: Mole Seegmuller :: Strasbourg
2010 : Videodrome :: KKWNE + Plateforme :: Paris
2010 : IRL :: centre Mercoeur :: Paris
2010 : Resurgences :: Plateforme :: Paris
2010 : Paradox Access art fair : Espace des Blancs Manteaux :: Paris
2010 : Espace Multimédia Gantner :: Bourogne
2010 : Desert Numérique :: St Nazaire le Desert
2010 : l'Usine :: Genève - CH
2009 : Diffusion :: Radio Campus :: Bordeaux
2009 : Chateau Chasse-Spleen :: Bordeaux
2009 : Trans'faires :: BBB :: Toulouse
2008 : Transe atlantique :: Pau
2008 : GMEM :: Marseille
2008 : Cimatics :: iMal :: Bruxelles -BE
2008 : Le festival du Cube :: Issy les Moulineaux
2008 : Antenna :: Les Voutes :: Paris
2007 : Le Placard :: La Manufacture :: Sèvres
2007 : Interface :: BWA :: Katowice - PL
2007 : Galeria xxi :: Varsovie - PL
2003 : Diffusion :: Bandits mages #8 :: Bourges
_______
Résidences :: Prix
2013 : Residence :: Maison Pop, Montreuil
2013 : Residence :: Fondation Vasarely, Aix en Provence
2012 : Residence :: Gaité Lyrique, Paris
2012 : Residence :: Weise7, with Brendan Howell, Berlin, DE
2012 : Bourse :: Bureau des Arts Plastiques, Berlin, DE
2012 : Bourse :: prototypes, Futur en seine, Paris
2011 : Residence :: Fundação Armando Alvares Penteado, São Paulo, BRA
2011 : Bourse :: Aide à la création multimédia, ARCADI
2011 : Bourse :: image en mouvement, CNAP
2011 : Bourse :: aide à la production, CNC
2011 : Résidence :: Arc en rêve + ENSAPBX, Bordeaux
2010 : Résidence :: Espace Multimédia Gantner, Bourogne
2010 : Résidence :: Géographies Variables, Lorient
2010 : Résidence :: GMEM, Marseille
2009 : Résidence :: Salines Royales d'Arc et Senans
2009 : Résidence :: OARA, Bordeaux
2009 : Bourse :: aide à la maquette; DICREAM
2008 : Résidence :: GMEM, Marseille
2008 : Résidence :: Salines Royales d'Arc et Senans
2008 : Résidence :: Montévidéo, Marseille
2008 : Bourse :: Brouillon d'un rêve, SCAM
2006 : Residence :: La Filature, Mulhouse
2006 : Residence :: Station-mir, Caen
2005 : Residence :: le 10neuf - CRAC, Montbéliard
_______
Enseignement :: Conférences
2006/10 : Assistant Spécialisé Son & Multimédia :: Ecole des beaux arts - Bordeaux
2013 : Artiste invité :: ESA - Aix en Provence
2012 : Conférence :: ESA - Aix en Provence
2012 : Conférence :: Trinity College - Dublin - IRL
2012 : Conférence :: Son/réseau :: School of the Art Institute :: Chicago - USA
2012 : Conférence :: Stony Brook University :: New York - USA
2011 : Conférence :: Fundação Armando Alvares Penteado :: Sao Paulo - BRA
2011 : Conférence :: Son/réseau :: dev/art :: Paris
2010 : Conférence :: Son/architecture :: Festival Accèss :: Pau
2010 : Conférence :: Son/architecture :: ENSA :: Limoges
2010 : Workshop :: Son/architecture :: ESA :: Lorient
2010 : Conférence :: ESA :: Lorient
2010 : Conférence :: Son/architecture :: Exineo :: Le Zoo :: Genève
2010 : Conférence :: Son/architecture :: Upgrade :: OARA :: Bordeaux
2008 : Conférence :: Son/architecture :: Le cresson CNRS :: Grenoble
2007 : Conférence :: Son/réseau :: Villa Arson :: Nice :: Symposium Audio Extranautes
2006 : Conférence :: Son/réseau :: Ecole d'art d'Aix :: Symposium Audio Sites
2006 : Workshop :: Paysage sonore :: Espace Multimédia Gantner, Bourogne
2005 : Workshop :: Synesthésie :: La Filature, Mulhouse
2005 : Workshop :: Partitions :: le Pavé dans la Mare, Besançon
2005 : Workshop :: Son/mouvement :: Le 10neuf, Crac, Montbéliard
_______
Commissariat - Organisation
2010-présent : User Friendly :: rencontres arts & média - Plateforme - Paris
2010-présent : Résurgences :: rencontres arts et performance - Plateforme - Paris
2012 : Invocations :: programme vidéo :: Instants Chavires :: Montreuil
2011 : Transmission Arts :: programme sonore :: Sketchpad - New York
2010 : Medium as instrument :: programme sonore :: Rosab / Capc - Bordeaux
2009 : CinéFantôme :: exposition :: Evento - Bordeaux
2009 : You've Got A Light :: exposition :: Frac Aquitaine - Bordeaux
2008 : Lune noire (1/2/3/4) :: programme sonore :: Bordeaux
_______