WAR ZONE
Reproduction of historical missile trajectories within Google Earth

Reproduction of historical missile trajectories within Google Earth
War Zone explores the military legacy that is now part and parcel of widely used technologies

In this series of videos, the artist reconstitutes three missile trajectories with a subjective camera within the program Google Earth by using historical data. This project focuses on reminding modern-day technologies of their past by highlighting the clues to their military origins. In the case at hand, the attention is centred on missile history – missiles being the precursor of the space programme and of the launching into orbit of satellites whose shots and mapping capabilities we now use on a daily basis.
As such, we follow the trajectories of a V2 rocket invented by the Nazis and launched from the Netherlands to England in 1945; a Scud missile launched from Kuwait to Saudi Arabia during the Gulf War; and finally an air-to-ground missile launched from Israel to Gaza in 2014. By riding astride our missile in the manner of Dr. Strangelove, we can consider the development of these instruments of death, from the poor precision of V2 rockets to the surgical strikes of Israel – the nation with the highest number of start-ups, in particular in the realm of cyber-defence, and the nation in which the military is the main source of innovation.

This work is based on data gathered from archives, interviews, blogs and historical events.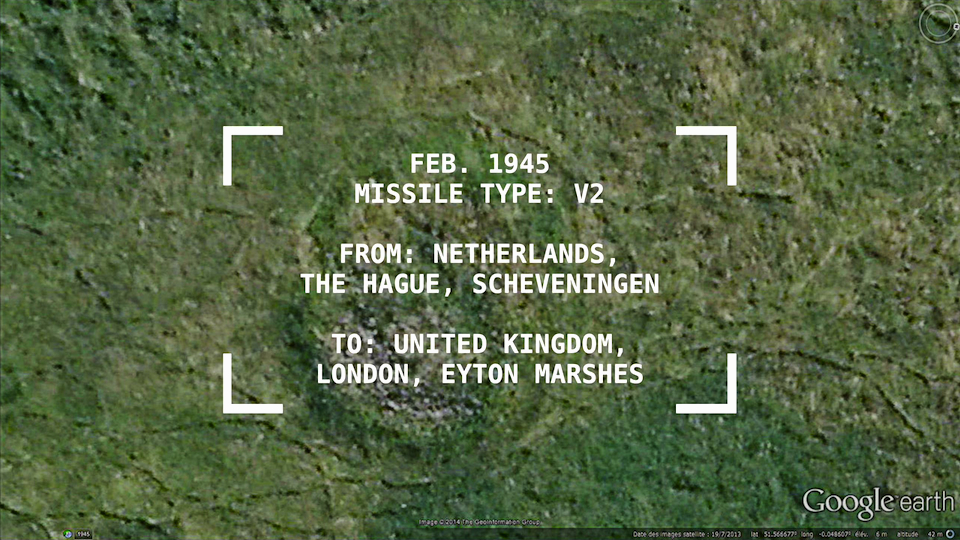 FEB 1945 | BASE: 52.1005805, 4.2894822 : THE HAGUE | TARGET: 51.566914, -0.048811 : LONDON
Comment from 'Walker': "I remember the V2 falling on Leyton Marshes distinctly. We lived in Dudlington Road, Hackney, Just a matter of yards away on the other side of Latham's timber yard. My cousin from New Zealand and four of his shipmates from the NZ navy were visiting us and my mum was making dinner when a huge explosion blasted two of our windows in and threw the front door wide open. One of the sailors, in an effort to protect me pushed me under the table, but his aim was bad and I hit my head on the heavy table leg causing a big bump. Mud from the marshes was caked on a large part of the area. My cousin Charlie ran to the site and found a bright, shiny, still warm dial from the rocket complete with Germanic lettering on it."